Where Does Limestone Come From?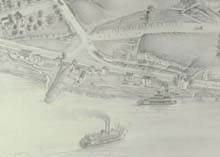 The original town site of St. Louis was situated on limestone bluffs high above the Mississippi where the Gateway Arch now stands. Roads actually had to be cut down to the riverfront through the bluffs. By the 1830s, enough limestone had been quarried away to construct a levee for the growing steamboat trade. The limestone side walls of the Old Cathedral, built during this period, probably were quarried at the riverfront.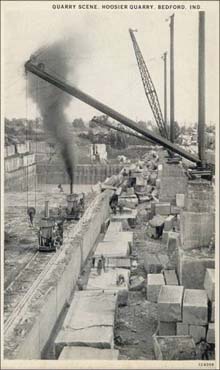 St. Louis limestone never developed as a major building material. Most large limestone buildings are made of Indiana limestone from Bedford, Indiana. This is a view of a quarry in the early 1900s.












More About Stone
Limestone
Where Does It Come From?
Limestone in St Louis Buildings
Granite
Where Does It Come From?
Granite in St Louis Buildings
Marble
Where Does It Come From?
Looking at Marble in St Louis
Related Links
Pictorial St Louis 1875
Old Cathedral
Stone Quarries and Beyond