Where Does Granite Come From?
In St. Louis, the first uses of granite involved stone shipped in from out of state. Granite deposits in the St. Francois mountains in southeastern Missouri were not commercially quarried until 1869.

Elephant Rocks State Park in Iron County is a great place to see the unusual granite landscape from that part of the state. A lake in the park was once a quarry.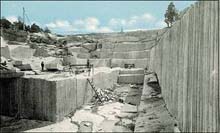 This postcard from a granite quarry in Georgia shows the scale of the quarrying operation (can you see the tiny person on the left side of the image?)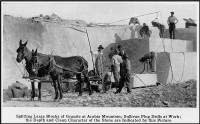 Before the process was fully mechanized, horses ended up with some of the heavy jobs. This photo is from Mine and Quarry Magazine , October 1916. The caption reads "Splitting Large Blocks of Granite at Arabia Mountain; Sullivan Plug Drills at Work; the Depth and Clean Character of the Stone are Indicated by this Picture."


More About Stone
Limestone
Where Does It Come From?
Limestone in St Louis Buildings
Granite
Where Does It Come From?
Granite in St Louis Buildings
Marble
Where Does It Come From?
Looking at Marble in St Louis
Related Links
Elephant Rocks State Park
Stone Quarries and Beyond