How a tree becomes a building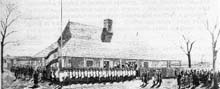 Unlike the northern Europeans, who stacked logs horizontally to make a "log cabin," the French traditionally built log houses with the logs set next to each other vertically. Many of the early houses in St. Louis used this form of log construction, with a wide porch.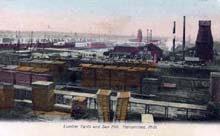 Later, large sawmills were constructed. Logs are sawed into "dimensional lumber" (wood that has specified dimensions, such as 2x4) which is used to build the frame of a house. The sawmill pictured is in Michigan. Much of the wood used in St. Louis came from the northern forests via the Mississippi.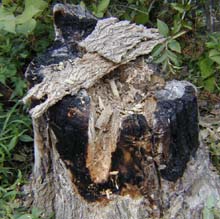 In 1849, much of downtown St. Louis burned down. Fire and rot are both problems that affect wood construction (see the burned and rotted stump at right) and most St. Louisans turned to masonry construction from that point forward. (Masonry means made of stone or bricks.)

More About Wood
Wood Home
Wood in St. Louis Buildings